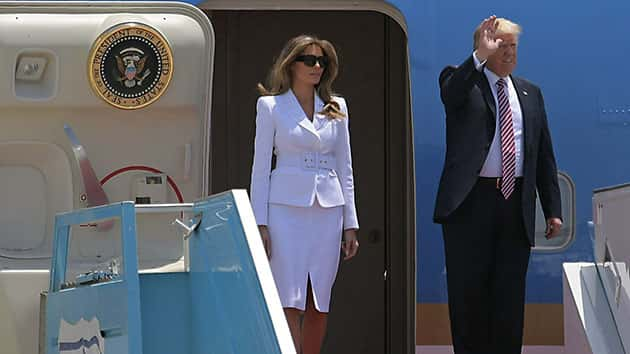 TEHRAN, Iran (AP) — Iran's newly re-elected President Hassan Rouhani took barbed swipes at the US and its ally Saudi Arabia on Monday, hitting back at both a day after President Donald Trump used his first foreign trip to the kingdom to call for further isolation of Iran.
The nuclear agreement Mr Rouhani's government reached with global powers in 2015, under which most worldwide sanctions have been lifted in return for Iran curbing its nuclear programme, is likely to remain safe.
Iran and Azerbaijan enjoy good relations and coordination, said Iranian President Hassan Rouhani, who was re-elected in the May 19 presidential election.
Speaking about U.S. President Donald Trump's recent visit to Saudi Arabia, he said Trump has visited a country which does not know the meaning of elections and its people never saw polling boxes.
Heads of state and government of many countries sent congratulations to Hassan Rouhani on reelection for the second presidential term including the leaders of Azerbaijan, Britain, India, China, Oman, Pakistan, Syria and Tajikistan.
Earlier Monday, Iranian Foreign Ministry spokesman Bahram Qassemi called on Washington to abandon its "warmongering policy, intervention, Iranophobia and sales of risky and useless weapons to the main sponsors of terrorism", according to state-run Press TV. ' 'We hope that one day Saudi Arabia will hold elections to end hereditary rulers and make the country much more powerful, ' he continued while refuting charges by King Salman bin Abdulaziz to the Islamic Republic for allegedly promoting and exporting terrorism in the region.
He finally expressed Iran's preparedness to cooperate with France at all levels in the fight against terrorism and in settling a crisis that has gripped Syria for more than six years.
Touching upon the regional issues Rouhani said that no one can ignore Iran's role in fight against terrorists in the region. "I hope that the United States of America administration think about the interests of the American people, regardless of the fact that they are not thinking about the interests of other nations".
"US President Trump saw almost 45 million Iranians went to the ballot boxes, but he chose to visit a country [Saudi Arabia] that does not know what election is, and its people have never seen a ballot box", he noted.
He compared Iran's election with Saudi Arabia's monarchy, and also vowed that missile tests would continue.
Trump has also signed an arms deal with Saudi. American officials should know that whenever we need to technically test a missile we will do so. "Until the Iranian regime is willing to be a partner for peace, all nations of conscience must work together to isolate it". In the bilateral sphere, South Africa and Iran share a long historical relationship, with Iran having stood with and supported the struggle for liberation in South Africa. "When they imposed sanctions on us, they made a mistake", he said.