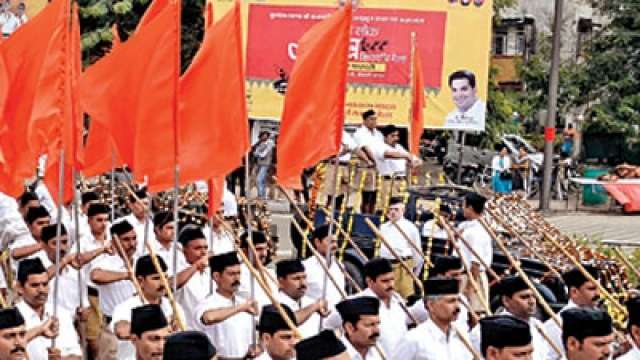 After political tensions erupted in Kerala over lynching of RSS workers, Union Minister and Senior BJP leader Arun Jaitley on Sunday met family members of slain RSS worker who was recently murdered in political violence in the state.
Jaitley said his visit was meant to "express solidarity with the victims, " and blamed the state police for remaining silent spectators to the violence.
Jaitley said that even enemies won't inflict such brutality as those who are involved in the murder. "At the end of the day, it's the responsibility of the state to ensure that the perpetrators of these crimes are brought to book", Jaitley said. He was in Thiruvananthapuram to visit the family of RSS pracharak Rajesh Edavakode who was killed last week.
The Rashtriya Swayamsevak Sangh (RSS) on Saturday accused the Communist Party of India (Marxist) (CPM) for the killing of the former's party worker in Kerala and said the state government is patronising hooligans and added that a Talibani war is going on in the state. Political will and determination by the state government is needed to discipline its own cadres rather than let them loose on political opponents.
"Jaitley, who is a central minister, should also visit the houses of CPM workers who have been killed in attacks", he added. I am here to express my solidarity with you. "This kind of violence will neither suppress the ideology, nor scare our workers and cadres", he said.It was "unfortunate" that not only this type of violence was going unchecked, many in the public space were adopting double standards in analysing the issue, Jaitley said.
To counter the BJP, the CPI-M today organised a dharna of relatives of 21 party workers allegedly killed by RSS-BJP activists in the district and also demanded Jaitely visit them also. "We now owe a duty to his family to look after them", he said.
After the issue surfaced in the media, the BJP dismissed R S Vinod, convener of BJPs co-operative cell in the state, whose name was mentioned in the purported party report.
Jaitley offered to meet families of Left activists who too have suffered violence. Even the RSS threat to force the centre to dismiss the LDF government has evoked only ridicule from various corners.
The RSS is dismayed that the BJP leaders could not whip up a national furore over the political killings of its workers in Kerala. He evaded a question on the RSS' call for President's Rule in Kerala.