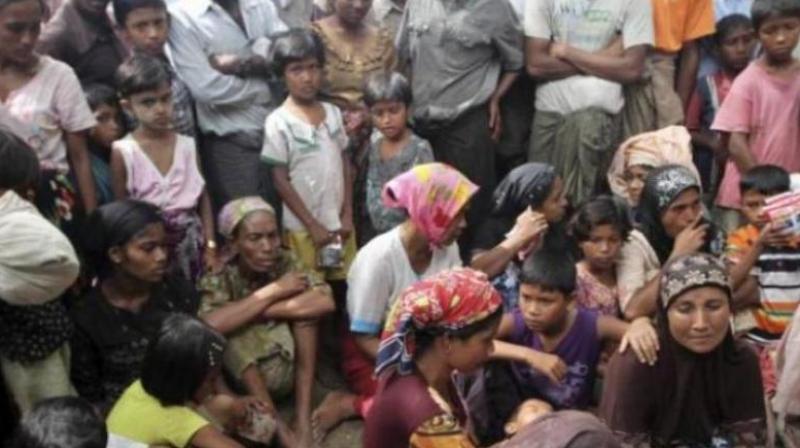 Incidentally, the NHRC had last month issued notice to the Union Home Ministry on the issue of Rohingyas, who had fled their homes in Myanmar.
"Myanmar se Bharat ghus aaye, ye Rohingya refugee nahi hain iss sachchai ko hume samajhna chahiye..."
The affidavit states that it has been "found by the Central Government that numerous Rohingyas figure in the suspected sinister designs of ISIS/other extremist groups who want to achieve their ulterior motives in India including that of flaring up communal and sectarian violence in sensitive areas of the country". They want the Suu Kyi government to take the Myanmar army to task, which she is no mood to do, knowing really well that it's the Rohingyas who are the real trouble makers. He was speaking at a seminar organised by the National Human Rights Commission in New Delhi.
Singh argued that since India is not a signatory to worldwide agreements on refugees, including the 1951 U.N. Refugee Convention, the question of violating those agreements by sending Rohingya back to Myanmar does not arise.
"Centre has inputs from intelligence agencies about links of some Rohingya Muslims with Pakistan's ISI and Global terror network IS to spread violence in India", the affidavit stated.
Furthermore, Rajnath Singh stressed that "People need to understand that one aspect of illegal immigration of Rohingyas is related to the national security".
Reiterating the Narendra Modi government's stance on the issue, Singh claimed India was not a signatory to the UN Refugees Convention of 1951, and thus justified in deporting the immigrants.
The government had also said if allowed to stay, the Rohingya refugees would exhaust natural resources meant for Indians that could culminate in hostility towards them and lead to social tension and law and order problems.
Both UN and human rights activists argue that despite India not being a signatory to the UN Refugee Convention, it is bound by worldwide principles of non-refoulement. According to Bangladeshi Foreign Minister Abul Hasan Mahmood Ali, around 3,000 Rohingya have been killed in the crackdown.
The top court began hearing the plea Monday.
The latest round of violence in Myanmar's strife-torn Rakhine State broke out on August 25 when Rohingya militants attacked dozens of security outposts.
He insists, "Most of the 40,000 Rohingyas came to India from Bangladesh".
However, he also admits that there is a contradiction in India accepting the humanitarian aspect of the Rohingya refugee flows when it comes to Bangladesh but not accepting the same logic when it comes to India. It is quite likely that the pressure on Rohingyas will not be eased and those who had have crossed over to other countries will never be taken back branded as they are as terrorists.