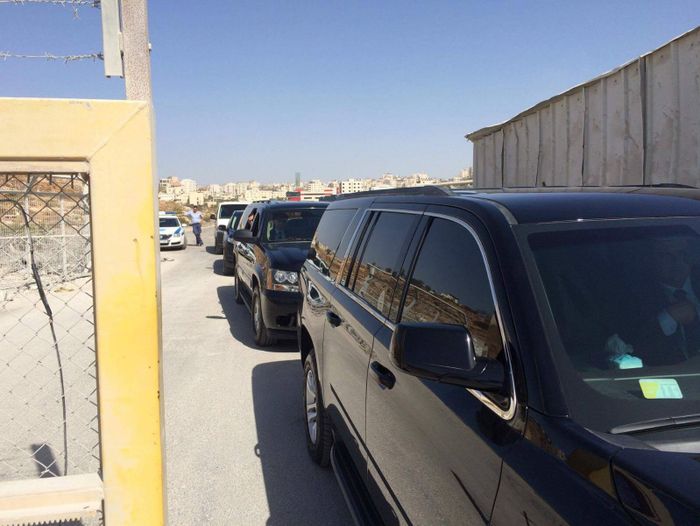 Tuesday's cabinet meeting was the first in Gaza since November 2014, and comes a day after Palestinian prime minister Rami Hamdallah entered the territory for the first time since a unity government collapsed in June 2015.
The Palestinian Authority's premier received a warm welcome during his visit to the Gaza Strip as his ministers are set to take over governing responsibilities there. Egypt's involvement in promoting reconciliation is completely acceptable to Abbas, who needs the support of a strong Arab country.
Israel captured the West Bank and east Jerusalem in the 1967 war and has since built dozens of settlements there.
Fawzy left the Gaza Strip after the meeting, concluding a short visit to Gaza, during which he met with the Palestinian government led by Prime Minister Rami Hamdallah and the leadership of Hamas.
A delegation of PA security force operatives, headed by minister of housing Mufeed Hasayneh, meets with Hamas security force operatives in the Gaza Strip (Palinfo Twitter account, September 29, 2017)Isma'il Haniyeh and Yahya al-Sinwar meet with the members of the Egyptian delegation (Facebook page of Shehab, October 1, 2017). Now the "reconciliation" with Fatah shows how Hamas has been weakened. For their different reasons, the PA, Israel and Egypt have all been seeking for the last several years to bring the Hamas administration in Gaza to heel and have been putting pressure of various kinds on it.
Hamas maintains a major military wing and senior officials have downplayed the idea of disarming in any reconciliation deal.
The negotiations have been facilitated by Egypt, largely by Cairo's directorate of general intelligence, which has indicated an increasing willingness to play a role in Gaza.
Both Israel and the United States have classified Hamas as a terrorist organization. Now Abbas is deploying this motto for the objective of gradually building Palestine through political means, including a national reconciliation deal with Hamas.
Also helping to arrange the agreement were Egyptian President Abdel-Fatah el-Sisi, who wants Hamas' cooperation in deterring attacks on Egyptian soldiers in the northern Sinai peninsula bordering Gaza. One can imagine tens of thousands of Palestinians marching to the border with Israel, or crawling out of a tunnel dug from Gaza into Israel with signs reading "Bread - work". For one thing, this is far from being the first attempt at Hamas-Fatah reconciliation, all the others having broken down sooner or later - and usually sooner.
Now, however, careful phrasing by USA and Palestinian officials strongly suggests that Hamas will not fade into the night. It added that "any Palestinian government must unambiguously and explicitly commit to nonviolence, recognition of the state of Israel", and should also accept previous agreements between the parties.