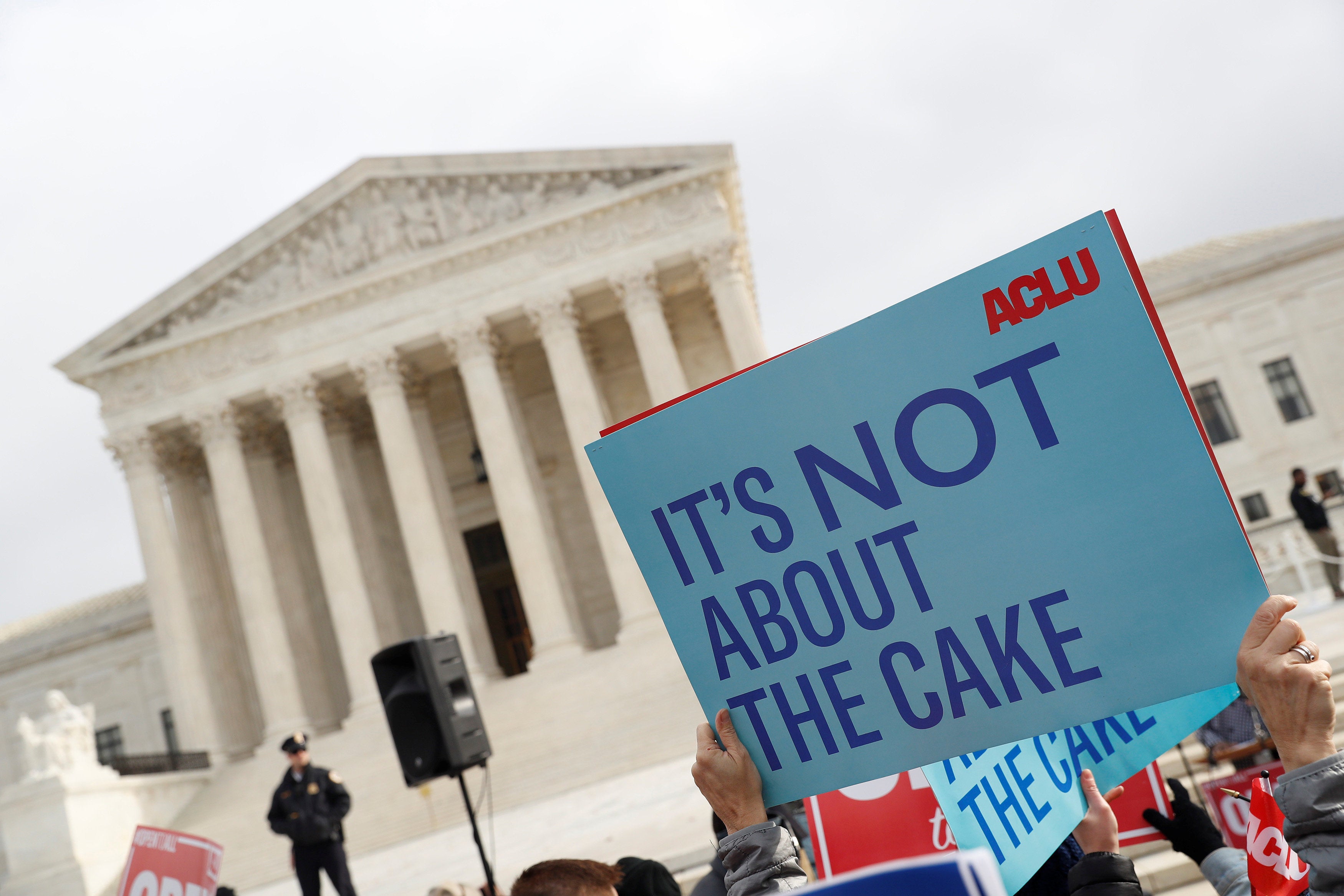 The U.S. Supreme Court is scheduled to hear oral arguments today in Masterpiece Cakeshop versus Colorado Civil Rights Commission, a case that will determine if Jack Phillips - the owner of a Lakewood bakery - was justified in refusing to make a wedding cake for a gay couple because of his faith.
Not surprisingly, the same sex couple, David Mullins and Charlie Craig, see the case through an entirely different lens: discrimination. He wondered if Phillips prevailed "could the baker put a sign in his window, we do not bake cakes for gay weddings?"
In any case, the administration legal counselors drew a line with regards to race, contending that laws focusing on race-based segregation may survive uplifted First Amendment investigation to some degree in light of the fact that racial predisposition "is a well-known and repeating malicious that stances one of a kind verifiable, sacred and institutional concerns". Both sides agree that a ruling in favor of Phillips would also open the door to claims from others who engage in professional services - florists, for example - that their religious liberty exempts them from public accommodation laws applicable to other businesses.
The argument is the first involving gay rights since the Supreme Court ruled in 2015 that states could not prevent same-sex couples from marrying.
The couple filed a complaint with the Colorado Civil Rights Commission, which ruled in their favor, citing a state anti-discrimination law.
Flash forward to 2012, when same sex marriage was not yet legal in Colorado, but two men walked into the bakery.
Phillips at that point took his case to the Supreme Court and the judges consented to take it up in the wake of reflecting on it for a little while.
Phillips' arguments also run directly contrary to well established principals and decisions from the Supreme Court. The couple was Wednesday in MA and hosted a wedding reception in Denver one year before gay marriage was legal across the U.S. They wanted a cake from Masterpiece Cakeshop, where Phillips decorates cakes for weddings, graduations and other celebrations.
But later in the argument Kennedy said Colorado's human rights commission seemed "neither tolerant nor respectful of Mr. Phillips' religious beliefs" when it found his refusal to bake a cake for the gay couple violated the state's anti-discrimination law.
"And soon thereafter they both raged out and left", he said.
In the Kentucky case, although the business accepts and serves all customers, the messages the company is willing to print are "limited by the moral compass of its owners", and it refuses "any order that would endorse positions that conflict with the convictions of the ownership".
Kagan replied: "Some people might say that about cakes, you know?"
"This case is about more than us, and it's not about cakes", Mullins said in a meeting. She said the Supreme Court's constrained discourse regulation "prohibits the commission from requesting that craftsmen outline custom articulation that passes on thoughts they consider shocking".
Jack Phillips is right about one thing: religious liberty is a bedrock American principle.
Cole said that whether a cake is an artistic expression is not at issue.
A few onlookers and place holders started holding up in line last Friday to secure one of the uncommon seats open to the general population in the lofty court.
Craig Konnoth, an associate professor at the University of Colorado Law School, says the court's decision could have broad implications for anti-discrimination laws in Colorado and across the nation. "It can't discriminate against certain members of the public, and that's what happened in this case".
"Artists shouldn't be forced to express what the government dictates".