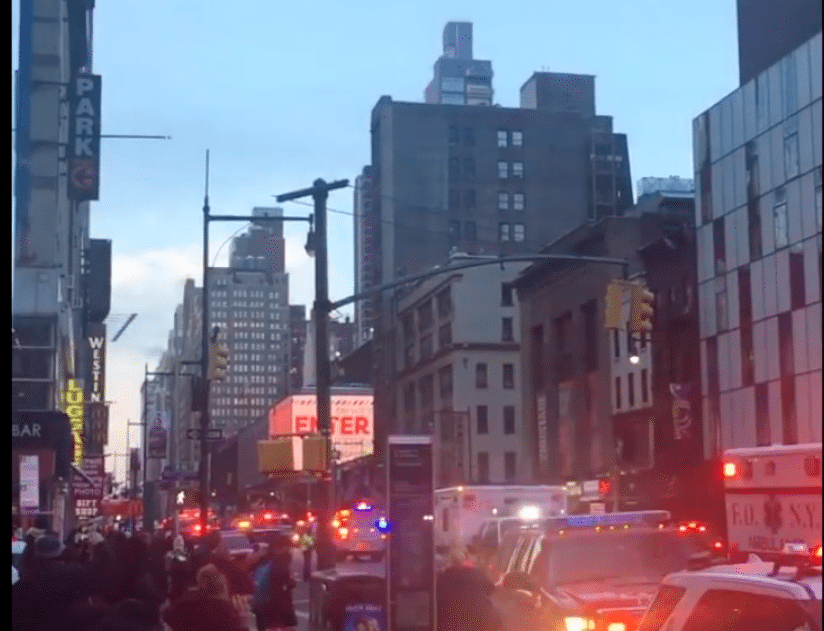 The A, C and E line are being evacuated at this time.
New York City Police Commissioner James O'Neill said the suspect "made statements" when he was taken into custody but wouldn't say whether he made reference to ISIS.
None of the injuries to the three other people were life-threatening, according to the New York City Fire Department. Service should return to normal before evening rush hour, transit officials said.
New York Mayor Bill De Blasio said: "This is the most resilient place on earth, we proved it just over a month ago, we proved it on 9/11".
The device was based on a pipe bomb and affixed to the suspect's body with a combination of velcro and zip ties, said John Miller, the deputy commissioner of intelligence and counter-terrorism for the NYPD. The 7:30 a.m. blast filled the passageway, crowded with throngs of Monday morning commuters, with smoke.
The bus terminal is located in Midtown at 625 Eighth Avenue between 40th Street and 42nd Street, one block east of the Lincoln Tunnel and one block west of Times Square. The hub is an entry point for more than 200,000 bus and other commuters each work day.
ABCNews reported that the police have arrested one person, who suffered minor injuries from the explosion, adding that few others were also injured.
Investigators are trying to determine if the device may have detonated prematurely, or partially, when it exploded.
John Miles was waiting for a bus to MA when he saw police bounding through the massive facility.
Ullah apparently traveled overseas to Bangladesh in September and returned in October, a law enforcement source tells CBS News senior investigative producer Pat Milton.
The main gateway for interstate buses into Manhattan in New York City, the terminal is owned and operated by the Port Authority of New York and New Jersey.
"I was going through the turnstile", he said.
White House Press Secretary Sarah Sanders has tweeted that President Trump has been briefed on the explosion.