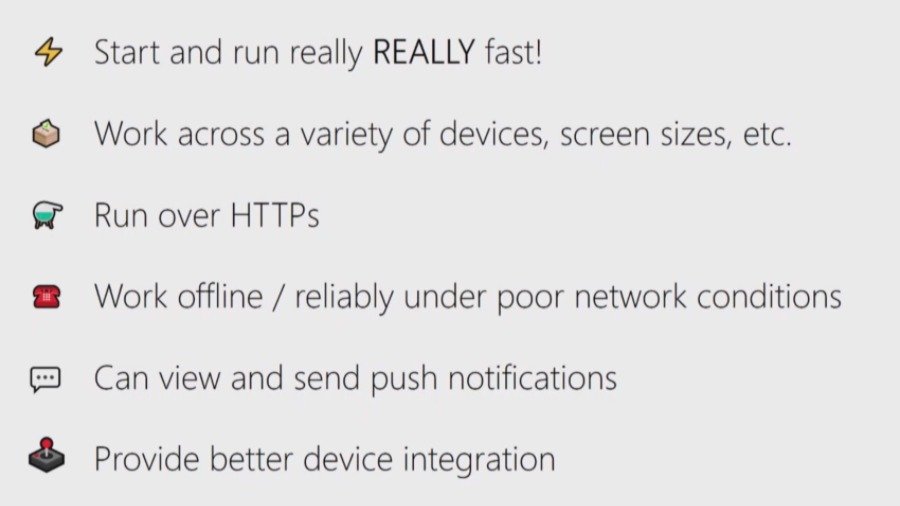 If reports are to be believed, Microsoft may also have some plans to discontinue Windows 10 S as a separate product in the future and instead offer it to Windows 10 users as a separate mode.
"You will be able to go through the out-of-box experience, set up Windows Hello and access all your favorite apps and services - all without ever having to enter your password", continued the Microsoft executives.
Of course, that's not the only improvement coming with the next Windows Insider build.
PWA capabilities will not be limited in scope compared to the Universal Windows Platform Apps found in the store today, and will have access to the full suite of WinRT APIs.
Microsoft explained that it makes more sense for developers focusing on fully-tailored UWP experience to build things from the ground up using native technologies.
Microsoft's developers have also worked on bringing HDR video support to a wider array of machines. While there are some exciting improvements to the system graphics, the company also unveiled some privacy and security changes. Our best guess is that the password-less mode will be available when the rumored "S Mode" is activated.
Late last month Microsoft officially announced that they are working on a whole new way to pair your Bluetooth devices to Windows 10 PC.
The software giant has also incorporated basic privacy measures, including being able to delete data gathered by the Diagnostic Data Viewer, which was installed by the Windows Insider Build 17983.
Windows Security improvements: The Windows Defender section in the Settings app has been redesigned and renamed "Windows Security". Moreover, there is a new "Clutter-free printing" option that can remove ads and more for certain type of web pages. Those early builds are likely to include mostly under-the-hood OneCore changes and no new features to speak of, at the outset. Those interested can click on over to the release notes for more information. We'd guess that we don't have to wait that much longer until the update is out.