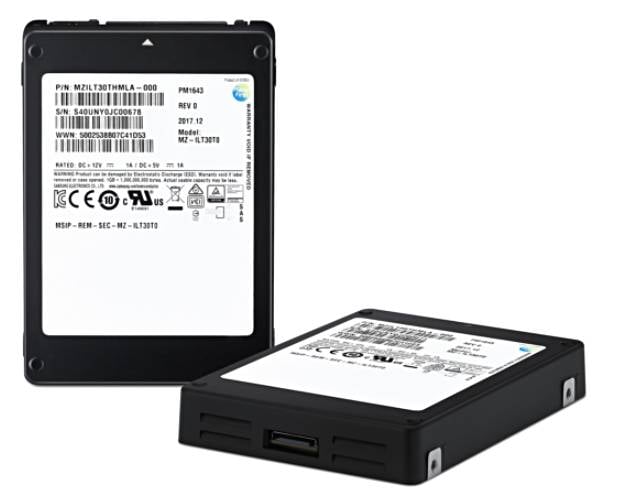 On the inside one can find Samsung's latest V-NAND technology with 64-layer, 3-bit 512Gb chips.
Samsung began manufacturing initial batches of these SSDs back in January and mass production has now kicked off. Further, each 1TB NAND flash package comprises of 16 stacked layers of 512Gb V-NAND chips. It is worth mentioning that Samsung unveiled a 15.36 TB SSD in March 2016 and the new PM1643 is exactly double of that capacity while retaining its size. Then, Samsung crams 32 of those 1TB packages into 2.5-inch form-factor to create the PM1643. Meanwhile, sequential speeds come in at 2,100MB/s for read and 1,700MB/s for write tests, per the company. The figures are around four times the random read performance and three times the sequential read performance of a typical 2.5-inch SATA SSD.
"With our launch of the 30.72TB SSD, we are once again shattering the enterprise storage capacity barrier, and in the process, opening up new horizons for ultra-high capacity storage systems worldwide", says Executive Vice President, Memory Sales, and Marketing Team, Samsung Electronics, Jaesoo Han.
Samsung was able to achieve this new level of capacity and performance through several technology improvements with its in-house controller, DRAM packaging, and associated software. The advanced controller integrates nine controllers from previous high-capacity SSDs into a single package. The drive also includes 40GB of DRAM thanks to Through Silicon Via (TSV), which allows for the interconnection of 8Gb DDR4 chips. It should be noted that this is the first time that Samsung used TSV-applied DRAM in an SSD. That's created to give better data retention and recovery rates after sudden power failures, and an error correction code (ECC) algorithm for less storage maintenance.
The device is guaranteed for five years based on one full write per day, great for data centres, but we think it's important to keep reminding ourselves that this is transferrable tech - somewhere down the line, this could be in your computer at home.
That's 40,000/50,000 R/W IOPS by the way and a mean time between failures of two million hours. This should help drive the growth of all-flash arrays and migration from HDDs to SSDs in the enterprise market, including industries such as government, financial services, education, healthcare, pharmaceutical, oil and gas, business services, communications services, and of course the ever-important social media platforms.