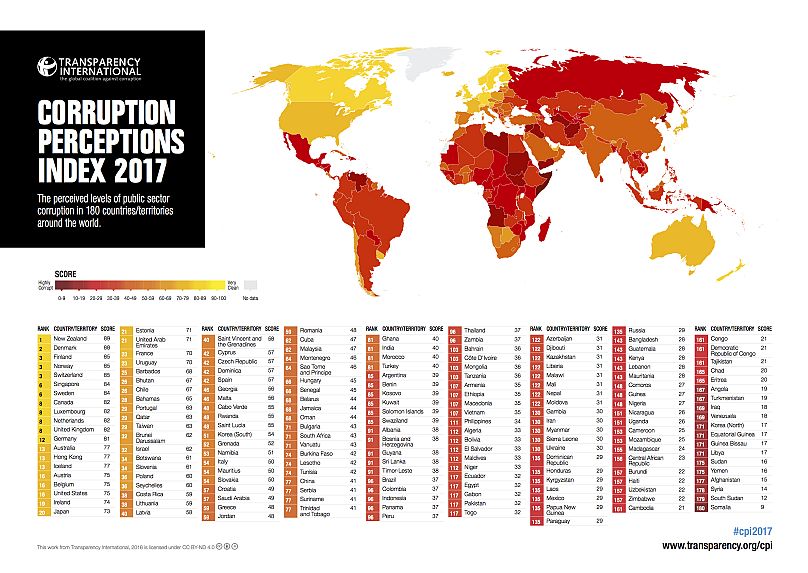 As per the report, New Zealand is on top of the list with 89 marks followed Denmark with 88 marks in the CPI.
The global watchdog described this poor performance as "nothing new", given that the majority of countries and territories ranked on the index were moving too slowly in their efforts to combat pervasive public-sector corruption, with some countries showing little-to-no progress since 2012, when TI adopted a methodology that allowed better comparisons. Though there are four more countries, only 54 countries scored 50/100 or better, the same number as previous year, meaning only 30 percent of countries score 50 or better.
Compared to the last five years, this is the lowest for the Philippines to get as the country got a 35 for 2015 and 2016, then scored a 36 in 2013, and got the highest score of 38 still in year 2014.
The Attorney General and Minister of Legal Affairs, Faris Al-Rawi, is seeking to assure citizens that Trinidad and Tobago will continue to improve in ratings after it received a Corruption Perception Index score of 41 by Transparency International. Transparency International said in a statement. Indi's latest score is 40 which has remained unchanged since past year, in 2015 the score was 38.
"This whole of Government approach towards the elimination of waste, corruption and mismanagement has been implemented transparently, with Government maintaining ongoing dialogue with the private sector and civil society representatives on key national issues", the AG noted.
The UAE improved its score on the index from 66 in 2016 to 71 in 2017, securing its position as the best performing Arab nation in the Middle East and North Africa (Mena) region. "Even more alarming, further analysis of the index results indicates that countries with the lowest protections for press and non-governmental organizations (NGOs) also tend to have the worst rates of corruption".
On the other hand, Syria (178th), South Sudan (179th) and Somalia (180th) were ranked the lowest in the index, with scores of 14, 12 and nine. "We found that nearly all journalists killed since 2012 were killed in countries with high levels of perceived corruption", notes the report.
Meanwhile, Paul Low, the Minister in the Prime Minister's Department in charge of integrity and governance, attributed the drop to MACC's work in making several high-profile arrests past year. "Despite attempts to combat corruption around the world, the majority of countries are moving too slowly in their efforts".
According to TI-N, the score allocated is an average score from among different scores on the performance of Nepal regarding corrupt practices given by institutions that include: The World Bank (WB), the World Economic Forum (WEF), Global Insight, Bertelsmann Foundation, World Justice Project (WJP) and Varieties of Democracy Projects (V-DEM).
"It is time for us to have our own and more effective index". "Given current crackdowns on both civil society and the media worldwide, we need to do more to protect those who speak up". In accordance with this, governments have been pressed to ensure a safe working environment for journalists, and for passing laws which improve access to information.