Marks & Spencer (M&S), one of the best known names in United Kingdom retail, first said it would reduce the amount of store space devoted to clothing and homewares in 2016, shortly after company lifer Steve Rowe became chief executive.
M&S earmarked 14 stores for closure on Tuesday, including in London's Bayswater and Holloway Road, with a total of 872 employees affected.
British food-to-clothing retailer Marks and Spencer will shut more than 100 "underperforming" United Kingdom stores in an ongoing restructuring, it said Tuesday.
Marks & Spencer also says that "the acceleration of M&S's United Kingdom store estate programme is part of M&S's wider five-year transformation plan". Is now well under way and the actions taken have increased the velocity of change running through our business.
M&S back in November 2016 introduced a five-year restructuring plan of its United Kingdom stores in mid of the aggressive competition from supermarts and budget garment chain-Primark, as well as from the online giants like-Amazon. Comparable food sales were down 0.3 per cent. Revenue nudged up 0.7 per cent to £10.7 billion.
M&S admitted its clothing and home division was failing to attract younger customers and families.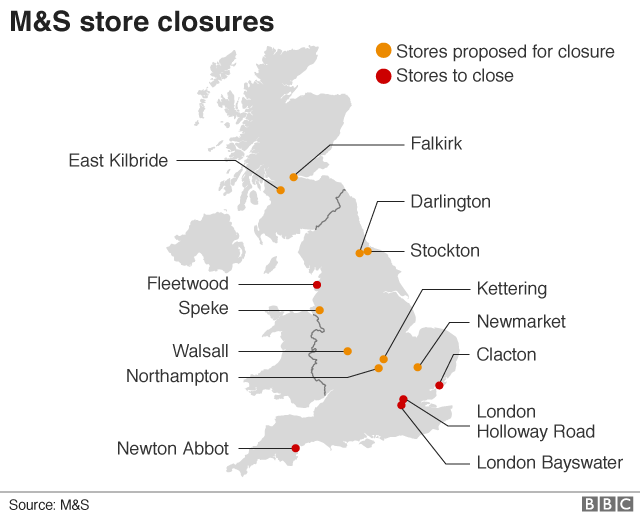 M&S says it must accelerate change or fade away
Steve Rowe, an M&S lifer who has been CEO for two years, said the firm was taking steps to fix the structural issues.
"The new organisation will largely be in place by July and the team is now tackling transforming our culture to make M&S a faster, lower cost, more commercial, more digital business".
The company also warned that its website was "too slow", adding it was lagging behind online competitors.
"M&S is now teetering on the edge of relegation from the FTSE 100 in the quarterly reshuffle next week", said Laith Khalaf, senior analyst at Hargreaves Lansdown.
"M&S is simply struggling to make progress in a world where a compelling mobile app is every bit as important as a presence on the high street, and considerably less expensive".
It comes a day after it announced it was closing 100 stores by 2022, accelerating a reorganisation that it says is "vital" for the retailer's future.