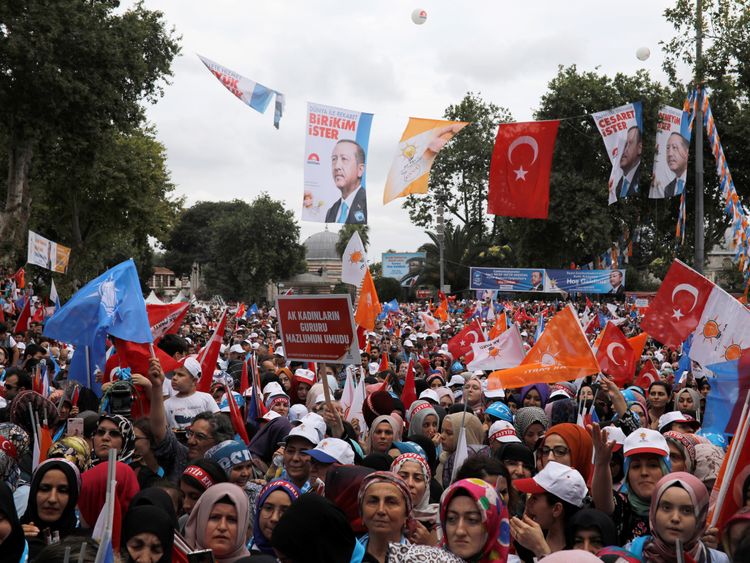 Supporters of Turkey's President Recep Tayyip Erdogan gather in front of the Huber Presidential Palace where he delivered a victory speech.
The election was one of the most consequential votes in years and saw a revitalized opposition unify to challenge the incumbent president, who has ruled Turkey for a decade and a half.
Sadi Guven said the president "received the absolute majority of all valid votes", BBC reported.
Still, Erdogan's main challenger, Muharrem Ince, and his secular-left People's Republican Party, or CHP, urged observers to stay at the country's ballot boxes to ensure votes were counted fairly.
Turkish President Recep Tayyip Erdogan claimed victory in the country's presidential election on Sunday, citing unofficial election results.
The AKP won 293 seats in the 600 MP chamber but the MHP did far better than expected, winning 50 seats and giving their alliance a clear majority, according to results published by Anadolu.
It is in this Anatolian heartland that Erdogan still inspires impassioned support from people who share his Islamic conservative beliefs and credit him for bringing Turkey to greater economic prosperity and respect. The pro-Kurdish Peoples' Democratic Party has 11.2 percent, passing the 10 percent threshold to enter into the assembly.
Echoing opposition complaints made throughout the campaign, he said Mr Erdogan "enjoyed a notable advantage" with "excessive coverage by government affiliated public and private media".
Serbian President Aleksandar Vucic congratulated Erdogan, saying that Belgrade "will continue to be a reliable partner of Turkey and of its role as a leader ready to defend the values and principles in these more than hard times".
Mr Ince, who won 30.6% of the presidential vote, warned that Turkey was heading down a path towards autocracy.
Russian President Vladimir Putin personally congratulated Erdogan in a telephone call.
"Winners of June 24 elections are Turkey, Turkish nation, sufferers of our region and all oppressed in the world", he said to cheering crowds, adding that the country "will look at its future with so much more trust than it did this morning".
The victor will wield sweeping executive powers under a new presidential system, which curbs the authority of parliament and the judiciary and which critics say entrenches one-man rule. An unexpectedly strong showing by the AK Party's alliance partner, the nationalist MHP, could translate into the stable parliamentary majority that Erdogan seeks to govern freely.
The amendments will transform the country from a parliamentary democracy into a presidential system - arguably the most significant political development since the Turkish republic was declared in 1923.
The president has for the last two years ruled under a state of emergency imposed in the wake of the 2016 failed coup, with tens of thousands arrested in an unprecedented crackdown which cranked up tensions with the West.
Erdogan counters that view, saying "Turkey is staging a democratic revolution".
Erdogan has declared himself an "enemy of interest rates", raising fears he will pressure the central bank to cut borrowing costs after the election despite double-digit inflation.
Buoyed by opinion polls, opponents of Turkish President Recep Tayyip Erdoğan believed they had a realistic chance of unseating him-or at least reducing his dominance in Sunday's elections. Ince has reportedly secured just 31 percent, despite enormous popular rallies and a seemingly galvanized opposition movement in the lead-up to election day.
While Erdogan's victory is likely to be positive for the lira in the short term, Nora Neutrvoom, an economist at ABN Amro told Euronews that the "Turkish economy will face a severe slowdown".
Luxembourg's foreign minister, Jean Asselborn, noted on Monday it is now up to Erdogan to decide whether Turkey's relations with the European Union will improve.
Following the failed coup, Turkey has been under a state of emergency for almost two years and has seen a widespread crackdown on alleged supporters of Gulen.