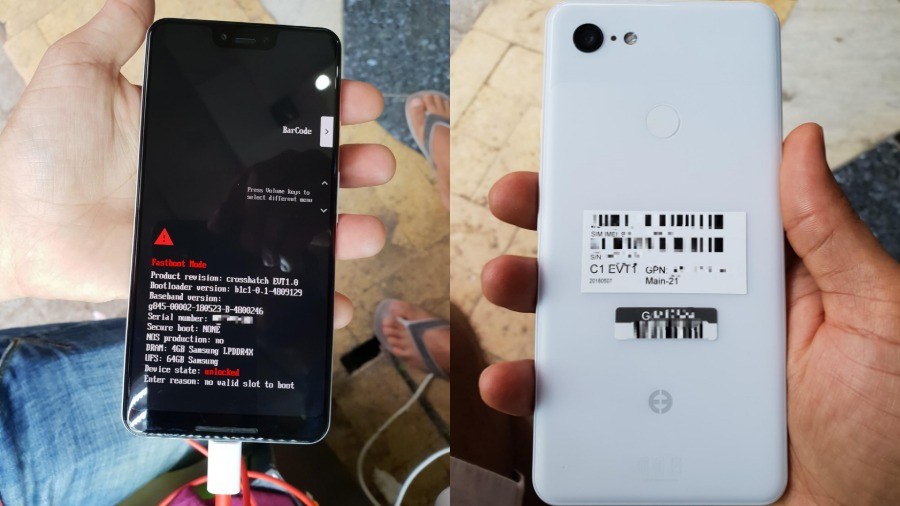 But it's not just Galaxies and iPhones that are incoming; Google's Pixel 3 and Pixel 3 XL are also set to launch in coming months, which means leaks are hitting the web thick and fast.
The latest look at the alleged Pixel 2 XL comes from dr.guru, no affiliation here, of XDA-Developer forums, who claims to have gotten a first-hand look at what Google has to offer. It also looks like the firm has an accessory in the works called the Pixel Stand hinting at Google's return to wireless charging.
The notch in the display is expected to house dual front cameras and you can see those either side of the earpiece. The shots are crisp and clear and as well as the single camera we're expecting, the phone has the same logo on the rear which we saw in the previous leak - a logo that was shown in previous blog post from Google about Pixel prototypes.
We have previously seen Google's upcoming Pixel 3 device in black. Internally, the test model carries 4GB of RAM and 64GB of internal storage, presumably as Google plans to continue pushing its cloud services. If the rumors about the Google-made Pixel Stand are true, this glass back could be used for wireless charging purposes.
The phone, however, doesn't boot up, as Google has wiped it remotely.
That's about all we can learn about the Pixel 3 XL from these leaked shots.
If Google runs with the schedule they've had in the past, they'll reveal the Google Pixel 3 at the beginning of October 2018.
The Pixel Stand will be a wireless charger for the Pixel 3 and Pixel 3 XL.
Earlier reports did say that the Pixel 3 phones will sport a glass sandwich design to support wireless charging.